Welcome to Carnivora. We hope you enjoy your visit.


You're currently viewing our forum as a guest. This means you are limited to certain areas of the board and there are some features you can't use. If you join our community, you'll be able to access member-only sections, and use many member-only features such as customizing your profile and voting in polls. Registration is simple, fast, and completely free.


Join our community!


If you're already a member please log in to your account to access all of our features:


Board Statistics
Total Forum Posts:
354,205
Total Members:
3,288
(The newest member is
dinosrulee
)
Apr 4 2013, 02:53 AM
, a record
641
users were online.
Polls
Carnivora
Welcome to Carnivora!
Carnivora is the premier Animal discussion and debate forum on the internet. Originators of species profiles, we have the most extensive range of animal profiles with the most detailed information that is constantly updated as it becomes available. We were the first forum to include a dedicated interspecific conflict board to allow discussion of hypothetical animal matchups. So please take time to view our site and the range of topics available, and also take the opportunity to become a member of our community.
Pic Of Week
Harbour Seal vs Giant Pacific Octopus
Posted by

Taipan

(Admins) at Yesterday, 5:32 PM. 0 comments
Harris's Hawk - Parabuteo unicinctus
The Harris's Hawk or Harris Hawk, Parabuteo unicinctus, formerly known as the Bay-winged Hawk or Dusky Hawk, is a medium-large bird of prey which breeds from the southwestern United States south to Chile and central Argentina. Birds are sometimes reported at large in Western Europe, especially Britain, but it is a popular species in falconry and these records almost certainly all refer to escapes from captivity. This medium-large hawk is roughly intermediate in size between a peregrine falcon (Falco peregrinus) and a Red-tailed hawk (Buteo jamaicensis). Harris' hawks range in length from 46 to 59 cm (18 to 23 in) and generally have a wingspan of about 103 to 120 cm (41 to 47 in). They exhibit sexual dimorphism with the females being larger by about 35%. In the United States, the average weight for adult males is about 701 g (1.545 lb), with a range of 546 to 850 g (1.204 to 1.874 lb), while the adult female average is 1,029 g (2.269 lb), with a range of 766 to 1,633 g (1.689 to 3.600 lb). The diet of the Harris' hawk consists of small creatures including birds, lizards, mammals, and large insects. Because it often hunts in groups, the Harris' hawk can also take down larger prey. Although not particularly common, the Harris' hawk may take prey weighing over 2 kg (4.4 lb), such as adult jackrabbits, great blue heron (Ardea herodias) and half-grown wild turkeys (Meleagris gallapavo).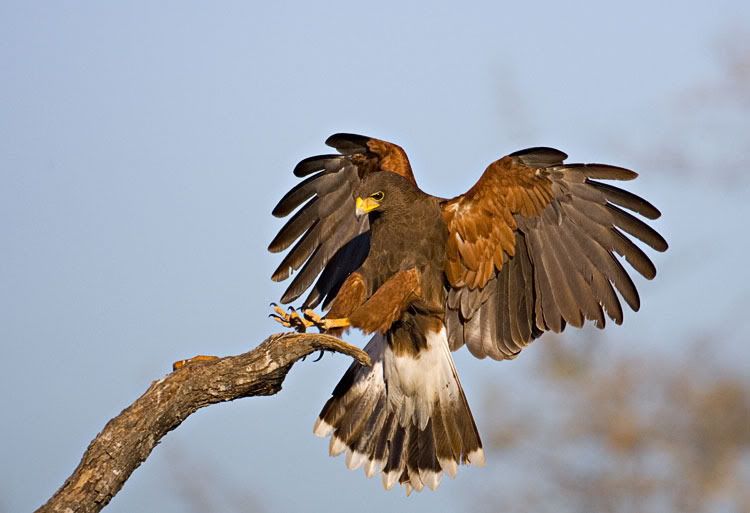 Prairie Falcon - Falco mexicanus
The Prairie Falcon (Falco mexicanus) is a medium-sized falcon of western North America. Male prairie falcons are 37 to 38 cm in length (~15 inches) and weigh 500 to 635g (1.1 to 1.4 lbs). Females are about 45 cm in length (17.7 inches) and weigh 762 to 970g (1.7 to 2.1 lbs). As in all falcons, females are noticeably bigger than males. It breeds from southern Manitoba, Saskatchewan, Alberta and south-central British Columbia south through the western United States–roughly between the eastern edge of the Mountain Time Zone and the Cascade Mountains, as well as the Central Valley of California–to the Mexican states of Baja California, Durango, and northern San Luis Potosí. It is much less migratory than the other North American falcons, but in winter it does withdraw somewhat from the northernmost and highest-elevation parts of its breeding range and spreads west to the deserts and Pacific coast of California, east to about the 100th meridian, and south to Baja California Sur, Jalisco, and Hidalgo. The Prairie Falcon eats mostly small mammals (especially in summer) and birds caught in flight. Like the Merlin, it often hunts by flying fast and low, at a height of only a metre or so, hoping to find surprised prey as it comes over the terrain or around a bush.
---
Birdsofprey123

Aug 23 2016, 09:56 PM

Coopers hawk vs prairie falcon?
I used the Harris's Hawk as the Coopers Hawk maybe too small.