Welcome to Carnivora. We hope you enjoy your visit.


You're currently viewing our forum as a guest. This means you are limited to certain areas of the board and there are some features you can't use. If you join our community, you'll be able to access member-only sections, and use many member-only features such as customizing your profile and voting in polls. Registration is simple, fast, and completely free.


Join our community!


If you're already a member please log in to your account to access all of our features:


Board Statistics
Total Forum Posts:
402,129
Total Members:
3,837
(The newest member is
montoyaadalynn
)
Apr 4 2013, 02:53 AM
, a record
641
users were online.
Carnivora
Welcome to Carnivora!
Carnivora is the premier Animal discussion and debate forum on the internet. Originators of species profiles, we have the most extensive range of animal profiles with the most detailed information that is constantly updated as it becomes available. We were the first forum to include a dedicated interspecific conflict board to allow discussion of hypothetical animal matchups. So please take time to view our site and the range of topics available, and also take the opportunity to become a member of our community.
Pic Of Week
Highlights from Maasai mara Sightings
Posted by

Taipan

(Admins) at 40 minutes ago. One comment
Sumatran Tiger - Panthera tigris sumatrae
The Sumatran tiger (Panthera tigris sumatrae) is a tiger subspecies that inhabits the Indonesian island of Sumatra and has been classified as critically endangered by IUCN in 2008 as the population is projected at 176 to 271 mature individuals, with no subpopulation having an effective population size larger than 50 individuals, with a declining trend. The Sumatran tiger is the only surviving member of the Sunda Islands group of tigers that included the now extinct Bali tiger and Javan tiger. The Sumatran tiger is the smallest of the tiger subspecies as compared to the Siberian tiger which is the largest. Sumatran male tigers average 8 feet (2.438m) in length from head to tail and weigh about 265 lbs.(120.2 kg). Females average 7 feet (2.134 m) in length and weigh about 200 lbs (90.718 kg). The smaller size of the Sumatran tiger makes it easier to move quickly through the jungle. Also, their stripes are narrower than other tiger species. The tiger's patterned coloring is an adaptation for camouflage in their natural habitat, which is often tall grass. The males, especially, have a more bearded and maned appearance in which neck and cheek hair are well developed. Sumatran tigers commonly prey on larger ungulates like wild pig, Malayan Tapir, and deer, and sometimes also smaller animals such as fowl, monkeys, and fish.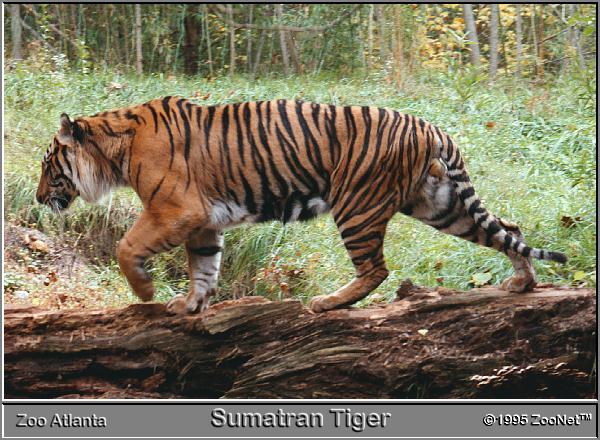 Grey Wolf (Pack with 3 - 4 adults) - Canis lupus
The Grey Wolf (Canis lupus ) is the largest wild canid, males averaging between 70 and 110 pounds depending on subspecies. The Wolf has a specialized body that has made it one of the world's most efficient hunters. Its powerful neck is a very important adaptation: it has to be strong to support the wolf's large head and is crucial for bringing down prey. The skull is 31cm (12 inches) long and is armed with an impressive array of large canines and carnassial teeth which, when coupled with huge jaw muscles that are evident from the large sagittal crest and wide zygomatic arches, give it an incredible biteforce that is strong enough to break the bones of prey and even crack the femur of moose. Wolves primarily feed on medium to large sized ungulates (up to the size of bison 10–15 times larger than themselves), though they are not fussy eaters. Medium and small sized animals that may supplement the diet of wolves include marmots, beaver, hares, badgers, foxes, weasels, ground squirrels, mice, hamsters, voles and other rodents, as well as insectivores.
---
Lightning

Jun 18 2018, 07:55 PM

Sumatran tiger vs 3 wolves
I added a wolf!