Welcome to Carnivora. We hope you enjoy your visit.


You're currently viewing our forum as a guest. This means you are limited to certain areas of the board and there are some features you can't use. If you join our community, you'll be able to access member-only sections, and use many member-only features such as customizing your profile and voting in polls. Registration is simple, fast, and completely free.


Join our community!


If you're already a member please log in to your account to access all of our features:


Board Statistics
Total Forum Posts:
370,972
Total Members:
3,404
(The newest member is
TyrannosaurusRex
)
Apr 4 2013, 02:53 AM
, a record
641
users were online.
Carnivora
Welcome to Carnivora!
Carnivora is the premier Animal discussion and debate forum on the internet. Originators of species profiles, we have the most extensive range of animal profiles with the most detailed information that is constantly updated as it becomes available. We were the first forum to include a dedicated interspecific conflict board to allow discussion of hypothetical animal matchups. So please take time to view our site and the range of topics available, and also take the opportunity to become a member of our community.
Pic Of Week
Hippopotamus & Nile Crocodile
Posted by

Taipan

(Admins) at Yesterday, 10:25 PM. 2 comments
South American Giant Short-faced Bear - Arctotherium angustidens
Arctotherium is an extinct genus of South American short-faced bears within Ursidae of the late Pliocene through the end of the Pleistocene. They were endemic to South America living from ~2.0–0.01 Ma, existing for approximately 1.99 million years. Their closest relatives were the North American short-faced bears of genus Arctodus (A. pristinus and A. simus). The closest living relative would be the Spectacled bear (Tremarctos ornatus). A specimen of A. angustidens from Buenos Aires shows an individual estimated, using the humerus, to weight between 983–2,042 kg (2,170–4,500 lb), though the authors consider the upper limit as improbable and say that 1,588 kg (3,500 lb) is more likely, however, using the radious, the mass estimate shrinks to a maximum of 1,108 kg (2,440 lb).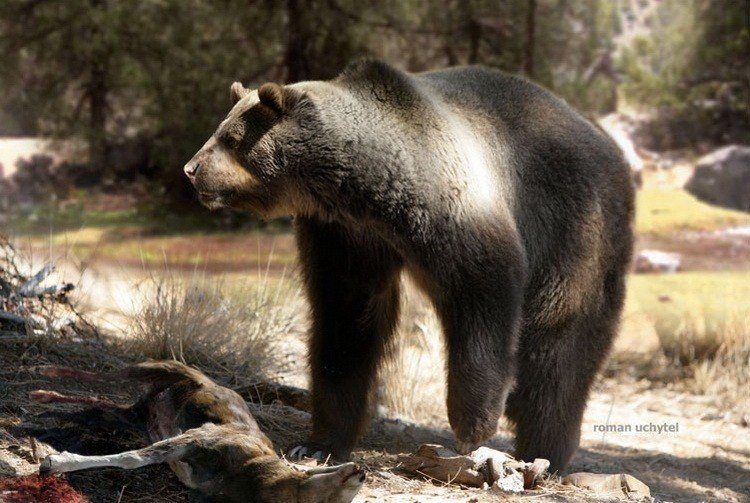 Toxodon platensis
Toxodon is an extinct mammal of the late Pliocene and Pleistocene epochs about 2.6 million to 16,500 years ago. It was indigenous to South America, and was probably the most common large-hoofed mammal in South America at the time of its existence. Toxodon was about 2.7 m (8 ft 10 in) in body length, with an estimated weight up to 1,415 kg (3,120 lb) and about 1.5 m (4 ft 11 in) high at the shoulder and resembled a heavy rhinoceros, with a short and vaguely hippopotamus-like head. Because of the position of its nasal openings, it is believed that Toxodon had a well-developed snout. It had a massive skeleton, which suggests that it supported a large muscular body. It had short stout legs with three functional toes, with most of the body weight being borne by the central toe.
---
Mammuthus

Jan 18 2017, 06:54 AM

Toxodon platensis vs any large Ursus?
Members of the genus Ursus are probably too small, although this member of Ursidae should make for a good matchup!