Tweet
Welcome to Carnivora. We hope you enjoy your visit.


You're currently viewing our forum as a guest. This means you are limited to certain areas of the board and there are some features you can't use. If you join our community, you'll be able to access member-only sections, and use many member-only features such as customizing your profile, sending personal messages, and voting in polls. Registration is simple, fast, and completely free.


Join our community!


If you're already a member please log in to your account to access all of our features:


Board Statistics
Total Forum Posts:
299,484
Total Members:
2,680
(The newest member is
pasat3
)
Apr 4 2013, 02:53 AM
, a record
641
users were online.
Polls
Carnivora
Welcome to Carnivora!
Carnivora is the premier Animal discussion and debate forum on the internet. Originators of species profiles, we have the most extensive range of animal profiles with the most detailed information that is constantly updated as it becomes available. We were the first forum to include a dedicated interspecific conflict board to allow discussion of hypothetical animal matchups. So please take time to view our site and the range of topics available, and also take the opportunity to become a member of our community.
Pic Of Week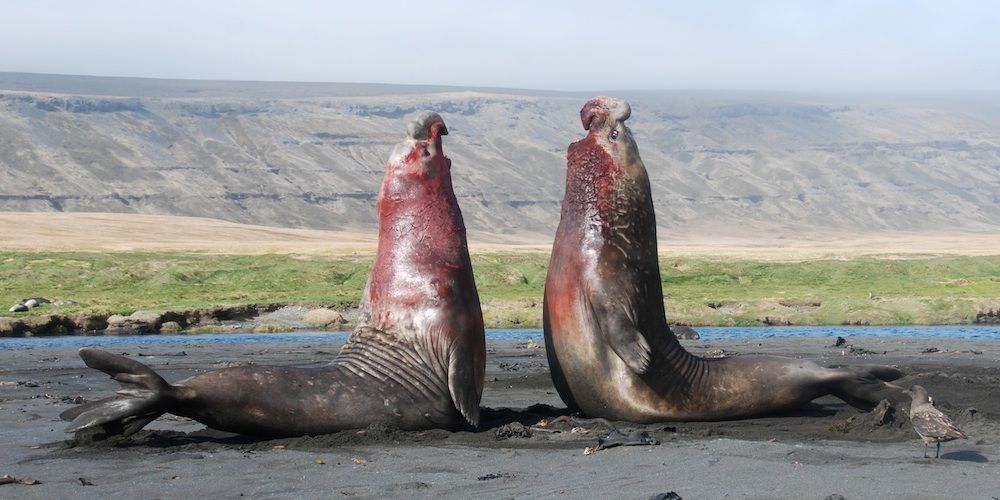 Two male southern elephant seals clash over a harem
Posted by

Taipan

(Admins) at Mar 1 2015, 08:09 PM. 5 comments
Tucuxi Dolphins (2) - Sotalia fluviatilis
The tucuxi (Sotalia fluviatilis), alternately in Peru bufeo gris or bufeo negro, is a species of freshwater dolphin found in the rivers of the Amazon Basin. The word tucuxi is derived from the Tupi language word tuchuchi-ana, and has now been adopted as the species' common name. Despite being found in geographic locations similar to those of 'true' river dolphins such as the boto, the tucuxi is not closely related to them genetically. Instead, it is classed in the oceanic dolphin family (Delphinidae). Physically, the species resembles the bottlenose dolphin but differs sufficiently to be placed in a separate genus, Sotalia. The costero (Sotalia guianensis), related dolphins present in coastal and estuarine environments and formerly grouped together with the tucuxi, have recently been recognized as a distinct species. The tucuxi is frequently described (see references below) as looking similar to the bottlenose dolphin, but it is typically smaller at around 1.5 m (4.9 ft). The dolphin is colored light to bluish grey on its back and sides. The ventral region is much lighter, often pinkish. The dorsal fluke is typically slightly hooked. The beak is well-defined and of moderate length. There are 26 to 36 pairs of teeth in the upper and lower jaws. The tucuxi exists in small groups of about 10-15 individuals, and swim in tight-knit groups, suggesting a highly developed social structure. Tucuxis are quite active and may jump clear of the water (a behavior known as breaching), somersault, spy-hop or tail-splash. They are unlikely, however, to approach boats. Tucuxis have been observed to feed with other river dolphins. They feed on a wide variety of fish. Studies of growth layers suggest the species can live up to 35 years. Adult weight: 35 – 45 kg.
Giant Devil (Goonch) Catfish - Bagarius yarrelli
Bagarius yarrelli, known as the giant devil catfish or goonch is a very large species of catfish in genus Bagarius found in rivers in South Asia. It is possibly also found in Southeast Asia, but this may involve a separate species. It is found in large rivers, including rivers with fast current, but never in small streams. It is found in South Asia. There are also populations in Southeast Asia (as far south as Sumatra and Borneo), but this may involve a separate species. This fish reaches up to 2 m (6.6 ft) in length, and weigh over 200 pounds. It may be largest species in the genus.
---
Mauro20

Mar 1 2015, 06:51 AM

Giant devil catfish vs 2 tucuxi dolphins.