Tweet
Welcome to Carnivora. We hope you enjoy your visit.


You're currently viewing our forum as a guest. This means you are limited to certain areas of the board and there are some features you can't use. If you join our community, you'll be able to access member-only sections, and use many member-only features such as customizing your profile, sending personal messages, and voting in polls. Registration is simple, fast, and completely free.


Join our community!


If you're already a member please log in to your account to access all of our features:


Board Statistics
Total Forum Posts:
231,925
Total Members:
2,124
(The newest member is
wow
)
Apr 4 2013, 02:53 AM
, a record
641
users were online.
Polls
Carnivora
Welcome to Carnivora!
Carnivora is the premier Animal discussion and debate forum on the internet. Originators of species profiles, we have the most extensive range of animal profiles with the most detailed information that is constantly updated as it becomes available. We were the first forum to include a dedicated interspecific conflict board to allow discussion of hypothetical animal matchups. So please take time to view our site and the range of topics available, and also take the opportunity to become a member of our community.
Pic Of Week
Selected by Black Ice
Posted by

Taipan

(Admins) at Today, 6:51 PM. 4 comments
Smilodon populator
Smilodon, often called a saber-toothed cat or wrongly a saber-toothed tiger, is an extinct genus of machairodonts. This saber-toothed cat was endemic to North America and South America, living from near the beginning through the very end of the Pleistocene epoch (2.5 mya—10,000 years ago). Smilodon populator ("Smilodon the Devastator"), 1 million-10,000 years ago; occurred in the eastern parts of South America and was the largest species of all machairodonts. It was much larger than its cousins, S. fatalis and S. gracilis, possessing a massive chest and front legs, and is the largest known variety of saber-toothed cat. It was more than 1.40 m (55 in) high at the shoulder, 2.6 m (100 in) long on average and had a 30 cm (12 in) tail. Smilodon populator was substantially heavier and larger than any extant felid, with a body mass range of 220–360 kg. Particularly large specimens of S. populator almost certainly exceeded 400 kg in body mass. Its upper canines reached 30 cm (12 in) and protruded up to 17 cm (6.7 in) out of the upper jaw. Genetic evidence suggests that Smilodon populator and other members of the genus diverged from the main lineage of modern cats (subfamily Felinae) around 14-18 million years ago.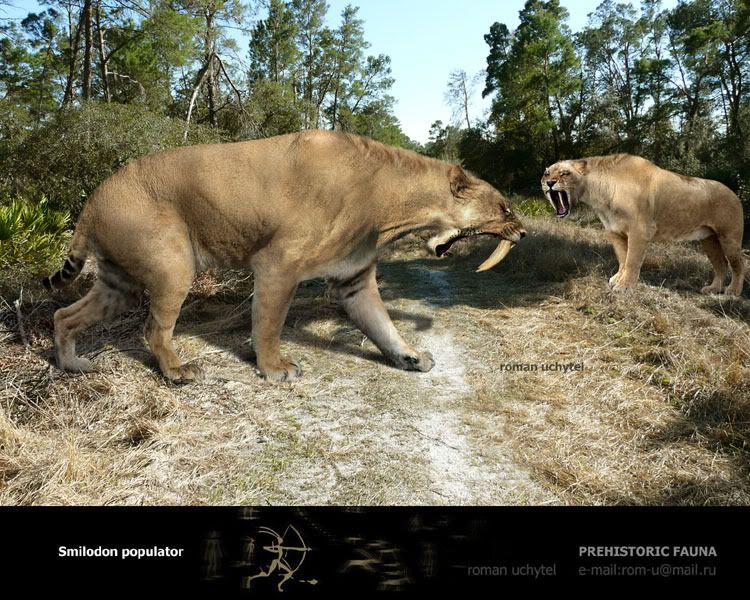 Gigantophis garstini
Gigantophis garstini
was a prehistoric snake which may have measured more than 10 metres (33 ft), larger than any living species of snake. It once took the mantle of largest snake before Titanoboa, which was discovered in Colombia in 2009. Gigantophis lived approximately 40 million years ago in the southern Sahara where Egypt and Algeria are now situated. The species is known only from a small number of fossils, and may have preyed on basal proboscideans, pig-sized ancestors of modern elephants. Gigantophis is classified as a member of the madtsoiid family. Jason Head, of the Smithsonian Institution in Washington, D.C., has compared the fossil vertebrae of a Gigantophis to those of the largest modern snakes, and concluded that the extinct snake could grow to 9.3 metres (31 ft) to 10.7 metres (35 ft) in length. If 10.7 metres (35 ft), it would have been more than 10 percent longer than its largest living relatives.
---
Vodmeister

Apr 24 2014, 05:52 PM

Gigantophis vs Smilodon Populator