Tweet
Free Forums. Reliable service with over 8 years of experience.

Welcome to Carnivora. We hope you enjoy your visit.


You're currently viewing our forum as a guest. This means you are limited to certain areas of the board and there are some features you can't use. If you join our community, you'll be able to access member-only sections, and use many member-only features such as customizing your profile and voting in polls. Registration is simple, fast, and completely free.


Join our community!


If you're already a member please log in to your account to access all of our features:


Board Statistics
Total Forum Posts:
319,025
Total Members:
2,889
(The newest member is
JG1987
)
Apr 4 2013, 02:53 AM
, a record
641
users were online.
Polls
Carnivora
Welcome to Carnivora!
Carnivora is the premier Animal discussion and debate forum on the internet. Originators of species profiles, we have the most extensive range of animal profiles with the most detailed information that is constantly updated as it becomes available. We were the first forum to include a dedicated interspecific conflict board to allow discussion of hypothetical animal matchups. So please take time to view our site and the range of topics available, and also take the opportunity to become a member of our community.
Pic Of Week
Grizzly fight on whale carcass from Brad Josephs
Posted by

Taipan

(Admins) at Yesterday, 8:16 PM. 4 comments
Small Asian (Indian or Javan) Mongoose - Herpestes javanicus
The small Asian mongoose (Herpestes javanicus) is a species of mongoose found in the wild in South and Southeast Asia. It has also been introduced to various parts of the world. The western subspecies group is sometimes treated as a separate species, the Indian mongoose or small Indian mongoose (Herpestes palustris). This species of mongoose is sympatric with Herpestes edwardsii in much of its native range and can be readily distinguished from the latter species by its much smaller size. The body is slender and the head is elongated with a pointed snout. The lengths of the head and body is 509-671mm. The ears are short. They have five toed feet with long claws. The sexes differ in size with males having a wider head and bigger size. These mongooses mostly eat insects but are opportunistic feeders and will eat crabs, frogs, spiders, scorpions, snakes, and birds and bird eggs. Males average 650 g in weight and females 430 g.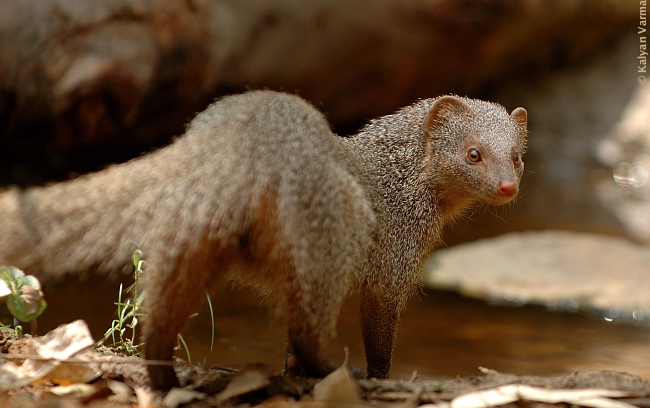 Desert Monitor - Varanus griseus
The desert monitor,
Varanus griseus
, is a species of monitor lizards of the order Squamata found living throughout North Africa and Central and South Asia. The desert monitor is carnivorous, feeding on a wide range of vertebrates and invertebrates.
Varanus griseus
monitor lizards normally display a variety of body coloration from light brown and yellow to grey. They average around approximately one meter in length, but can reach total body lengths of almost two meters. The preferred prey of the species is mice, eggs, or fish, but it will also prey on smaller mammals, reptiles, birds, amphibians, insects, or other invertebrates, if the opportunity presents itself. V. griseus in Thatta, average (SVL) length of male were 27.555 cm and average (SVL) length of female were 21.5 cm and the average weight of male were 2.231 kg and average weight of female were 2.05 kg in Thatta study area.