Tweet
Enjoy forums? Start your own community for free.

Welcome to Carnivora. We hope you enjoy your visit.


You're currently viewing our forum as a guest. This means you are limited to certain areas of the board and there are some features you can't use. If you join our community, you'll be able to access member-only sections, and use many member-only features such as customizing your profile, sending personal messages, and voting in polls. Registration is simple, fast, and completely free.


Join our community!


If you're already a member please log in to your account to access all of our features:


Board Statistics
Total Forum Posts:
267,276
Total Members:
2,357
(The newest member is
Calswm
)
Apr 4 2013, 02:53 AM
, a record
641
users were online.
Polls
Carnivora
Welcome to Carnivora!
Carnivora is the premier Animal discussion and debate forum on the internet. Originators of species profiles, we have the most extensive range of animal profiles with the most detailed information that is constantly updated as it becomes available. We were the first forum to include a dedicated interspecific conflict board to allow discussion of hypothetical animal matchups. So please take time to view our site and the range of topics available, and also take the opportunity to become a member of our community.
Pic Of Week
Selected by mechafire
Posted by

Taipan

(Admins) at Aug 31 2014, 08:41 PM. 3 comments
Sumatran Rhinoceros - Dicerorhinus sumatrensis
The Sumatran rhinoceros (Dicerorhinus sumatrensis) is a member of the family Rhinocerotidae and one of five extant rhinoceroses. It is the only extant species of the genus Dicerorhinus. It is the smallest rhinoceros, although is still a large mammal. This rhino stands 112–145 cm (3.67–4.76 ft) high at the shoulder, with a head-and-body length of 2.36–3.18 m (7.7–10.4 ft) and a tail of 35–70 cm (14–28 in). The weight is reported to range from 500 to 1,000 kg (1,100 to 2,200 lb), averaging 700–800 kg (1,500–1,800 lb), although there is a single record of a 2,000 kg (4,400 lb) specimen. Like the African species, it has two horns; the larger is the nasal horn, typically 15–25 centimetres (5.9–9.8 in), while the other horn is typically a stub. A coat of reddish-brown hair covers most of the Sumatran rhino's body.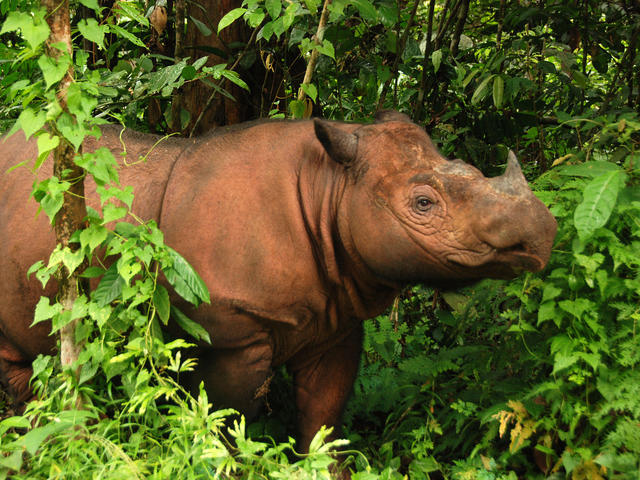 Saltwater Crocodile - Crocodylus porosus
Largest living crocodilian species with a confirmed measurement, and in fact the world's largest living reptile in terms of mass. Adult males can reach sizes of up to 6 or 7 metres (20 to 23 feet), the largest confirmed individual being 20.7 feet (6.3 metres). There is always a lot of interest over the largest ever recorded saltie. In general, males over 5 m (17 feet) in length are extremely rare. Females are smaller, the normal maximum adult size being 2.5 m to 3 m (8 to 10 feet) being the normal maximum adult size. Maximum weight varies, but has been known to exceed 1,000 kg in 18 to 19 foot adults. 5 metre adults are closer to 400 to 500 kg. This is a large-headed species with a heavy set of jaws. A pair of ridges run from the eye orbits along the centre of the snout, becoming more distinct with age. The upper surface of the top jaw becomes very rugose in large adult males.
---
7574

Aug 30 2014, 09:51 PM

samatrun rhino vs saltwater crocodile