Tweet
Welcome to Carnivora. We hope you enjoy your visit.


You're currently viewing our forum as a guest. This means you are limited to certain areas of the board and there are some features you can't use. If you join our community, you'll be able to access member-only sections, and use many member-only features such as customizing your profile, sending personal messages, and voting in polls. Registration is simple, fast, and completely free.


Join our community!


If you're already a member please log in to your account to access all of our features:


Board Statistics
Total Forum Posts:
283,287
Total Members:
2,527
(The newest member is
Joran.betker
)
Apr 4 2013, 02:53 AM
, a record
641
users were online.
Polls
Carnivora
Welcome to Carnivora!
Carnivora is the premier Animal discussion and debate forum on the internet. Originators of species profiles, we have the most extensive range of animal profiles with the most detailed information that is constantly updated as it becomes available. We were the first forum to include a dedicated interspecific conflict board to allow discussion of hypothetical animal matchups. So please take time to view our site and the range of topics available, and also take the opportunity to become a member of our community.
Pic Of Week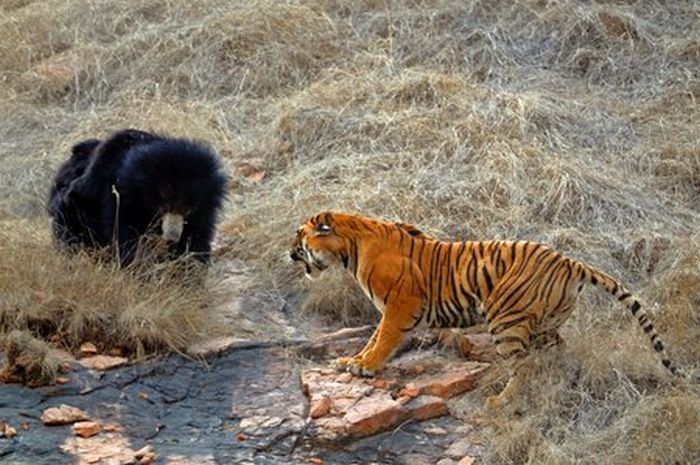 Sloth Bear v Bengal Tiger
Posted by

Taipan

(Admins) at Today, 8:57 PM. 2 comments
Smilodon populator (pride of 8)
Smilodon, often called a saber-toothed cat or wrongly a saber-toothed tiger, is an extinct genus of machairodonts. This saber-toothed cat was endemic to North America and South America, living from near the beginning through the very end of the Pleistocene epoch (2.5 mya—10,000 years ago). Smilodon populator ("Smilodon the Devastator"), 1 million-10,000 years ago; occurred in the eastern parts of South America and was the largest species of all machairodonts. It was much larger than its cousins, S. fatalis and S. gracilis, possessing a massive chest and front legs, and is the largest known variety of saber-toothed cat. It was more than 1.40 m (55 in) high at the shoulder, 2.6 m (100 in) long on average and had a 30 cm (12 in) tail. Smilodon populator was substantially heavier and larger than any extant felid, with a body mass range of 220–360 kg. Particularly large specimens of S. populator almost certainly exceeded 400 kg in body mass. Its upper canines reached 30 cm (12 in) and protruded up to 17 cm (6.7 in) out of the upper jaw. Genetic evidence suggests that Smilodon populator and other members of the genus diverged from the main lineage of modern cats (subfamily Felinae) around 14-18 million years ago.
Steppe Rhinoceros - Elasmotherium sibiricum
Elasmotherium ("Thin Plate Beast") is an extinct genus of giant rhinoceros endemic to Eurasia during the Late Pliocene through the Pleistocene, documented from 2.6 mya to as late as 50,000 years ago, possibly later, in the Late Pleistocene, an approximate span of slightly less than 2.6 million years. Three species are recognised. The best known, E. sibiricum was the size of a mammoth and is thought to have borne a large, thick horn on its forehead which was used for defense, attracting mates, driving away competitors, sweeping snow from the grass in winter and digging for water and plant roots. Like all rhinoceroses, elasmotheres were herbivorous. Unlike any others, its high-crowned molars were ever-growing. Its legs were longer than those of other rhinos and were designed for galloping, giving it a horse-like gait. The Russian paleontologists of the 19th century who discovered and named the initial fossils were influenced by ancient legends of a huge unicorn roaming the steppes of Siberia. To date no evidence either contradicts or confirms the possibility that Elasmotherium survived into legendary times. The most reconstructed species is perhaps E. sibiricum by generations of scientists working at the Paleontological Museum in Moscow and elsewhere in Russia. The majority of the fossils fall or have fallen within their national jurisdiction. The dimensions and morphology of the various reconstructions vary considerably. They are for the most part estimating the gross details from the minutiae. However, they all agree on the general order of magnitude, that sibiricum was comparable to a Mammoth and was rather larger than the contemporary Woolly Rhinoceros. E. sibiricum had a measured shoulder height of approximately 2 metres (6.6 ft). To it, however, must be added the height of a massive hump anchored on the fin-like transverse processes extending from the top of the cervical vertebrae, a maximum of 53 centimetres (1.74 ft). The total height then was in excess of 253 centimetres (8.30 ft). The measured length of sibiricum (from a nearly complete skeleton found at Gaevskaya) is 4.5 metres (15 ft). Extrapolation from the greater size of caucasicum molars obtains a length of 5 metres (16 ft)—5.2 metres (17 ft) for caucasicum. According to Legendre's formula, E. sibiricum had a mass of over 4,000 kilograms (3.9 long tons; 4.4 short tons); E. caucasicum, 5,000 kilograms (4.9 long tons; 5.5 short tons). These weights place Elasmotherium in the "really huge" category of all Rhinocerotidae and therefore the animal was "strongly brachyopodial;" that is, they required feet of large contact area to prevent sinking into the soil. The feet were unguligrade, the front larger than the rear: purely tridactyl on Digits II-IV in the rear, but with an extra vestigial digit, I, in the front.
---
7574

Nov 28 2014, 12:27 AM

smilodon popolator(pride of 8) vs steppe rhino