Enjoy forums? Start your own community for free.

Welcome to Carnivora. We hope you enjoy your visit.


You're currently viewing our forum as a guest. This means you are limited to certain areas of the board and there are some features you can't use. If you join our community, you'll be able to access member-only sections, and use many member-only features such as customizing your profile and voting in polls. Registration is simple, fast, and completely free.


Join our community!


If you're already a member please log in to your account to access all of our features:


Board Statistics
Total Forum Posts:
351,911
Total Members:
3,260
(The newest member is
Animal95
)
Apr 4 2013, 02:53 AM
, a record
641
users were online.
Polls
Carnivora
Welcome to Carnivora!
Carnivora is the premier Animal discussion and debate forum on the internet. Originators of species profiles, we have the most extensive range of animal profiles with the most detailed information that is constantly updated as it becomes available. We were the first forum to include a dedicated interspecific conflict board to allow discussion of hypothetical animal matchups. So please take time to view our site and the range of topics available, and also take the opportunity to become a member of our community.
Pic Of Week
Harbour Seal vs Giant Pacific Octopus
Posted by

Taipan

(Admins) at Yesterday, 11:07 PM. 0 comments
Giant Ice Age Bison - Bison latifrons
Bison latifrons is an extinct species of bison that lived in North America during the Pleistocene. Also known as the giant bison, it reached a shoulder height of 2.5 metres (8.5 feet), and had horns that spanned over 2 metres (6.5 feet). The known dimensions of the species are much larger than either extant species of bison (it was approximately twice the body size) and other extant large bovids, and B. latifrons may be the largest bovid in the fossil record. B. latifrons reached a shoulder height of 2.5 meters (8.2 ft) and may have weighed over 2,000 kilograms (4,400 lb).
Sivatherium giganteum
Sivatherium ("Shiva's beast") is an extinct genus of giraffid that ranged throughout Africa to the Indian Subcontinent. Sivatherium resembled the modern okapi, but was far larger, and more heavily built. Sivatherium had a wide, antler-like pair of ossicones on its head, and a second pair of ossicones above its eyes. Its shoulders were very powerful to support the neck muscles required to lift the heavy skull. Estimated adult body mass of 1548 kg (1058 – 2264 kg range).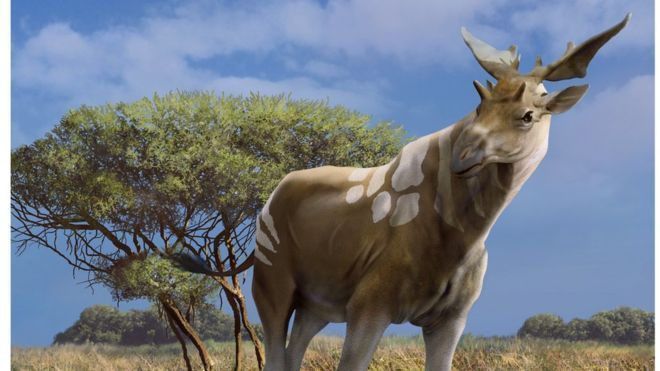 ---
RhinoKing

Jul 29 2016, 04:28 PM

Ice age bison vs Sivatherium giganteum.