Tweet
Welcome to Carnivora. We hope you enjoy your visit.


You're currently viewing our forum as a guest. This means you are limited to certain areas of the board and there are some features you can't use. If you join our community, you'll be able to access member-only sections, and use many member-only features such as customizing your profile and voting in polls. Registration is simple, fast, and completely free.


Join our community!


If you're already a member please log in to your account to access all of our features:


Board Statistics
Total Forum Posts:
317,490
Total Members:
2,860
(The newest member is
Mogire
)
Apr 4 2013, 02:53 AM
, a record
641
users were online.
Polls
Carnivora
Welcome to Carnivora!
Carnivora is the premier Animal discussion and debate forum on the internet. Originators of species profiles, we have the most extensive range of animal profiles with the most detailed information that is constantly updated as it becomes available. We were the first forum to include a dedicated interspecific conflict board to allow discussion of hypothetical animal matchups. So please take time to view our site and the range of topics available, and also take the opportunity to become a member of our community.
Pic Of Week
Leopard v Spotted Hyena @ Masaï Mara Game Reserve
Posted by

Taipan

(Admins) at Yesterday, 8:33 PM. 2 comments
Greater (Giant) Noctule Bat - Nyctalus lasiopterus
The greater noctule bat (Nyctalus lasiopterus) is a rare bat found in Europe, West Asia, and North Africa. It is the largest and least studied bat in Europe with a wingspan of up to 46 centimeters and is one of the few bat species to feed on passerine birds. Greater noctule bats are the only bat species to hunt birds on the wing rather than when roosting. The Greater noctule bat employs echolocation, has wings adapted for open-air hunting, and has echolocation frequencies above the hearing range of birds. These characteristics of the greater noctule indicate that it is well adapted for hunting passerines in the air. The Greater Noctule is one of the largest bats with a wingspan of 41–46 cm (16–18 in). Its head-and-body length is from 8.4 to 10.4 cm (3.3 to 4.1 in), its tail is from 5.5 to 6.6 cm (2.2 to 2.6 in) and its forearm ranges from 6.2 to 6.8 cm (2.4 to 2.7 in). The body mass of adults ranges from 41 to 76 g (1.4 to 2.7 oz).
Gila Woodpecker - Melanerpes uropygialis
The Gila woodpecker (Melanerpes uropygialis) is a medium-sized woodpecker of the desert regions of the southwestern United States and western Mexico. In the U.S., they range through southeastern California, southern Nevada, Arizona, and New Mexico. This woodpecker's habitat consists of low desert scrub typical of the Sonoran Desert. They build nests in holes made in saguaro cacti or mesquite trees. Cavities excavated by these woodpeckers in saguaro cacti are later used by a variety of other species, including the elf owl. The back and wings of this bird are spotted and barred with a black and white zebra-like pattern. The neck, throat, belly and head are greyish-tan in color. The male has a small red cap on the top of the head. Females and juveniles are similar, but both lack the red cap of the adult male. White wing patches are prominent in flight. The dark tail has white bars on the central tail feathers. They range from 8–10 in (20–25 cm) in length.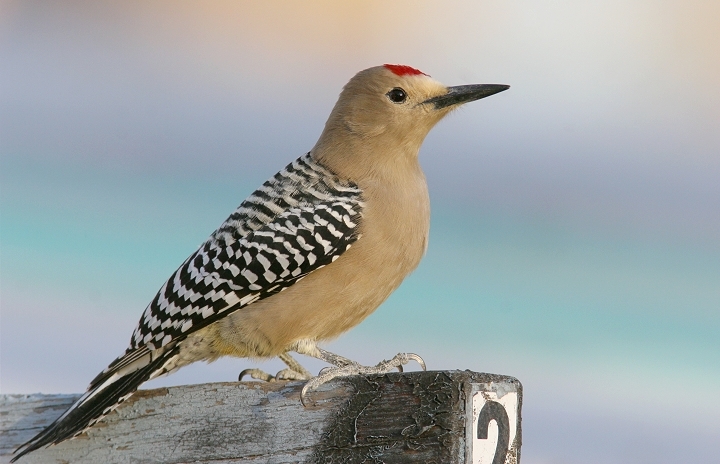 ---
Marek

Jul 31 2015, 10:51 AM

Greater Noctule Bat vs. Gila Woodpecker. Both are unusual within their taxa for having attacked birds of a similar size to themselves and have a similar wingspan and mass.