Tweet
Enjoy forums? Start your own community for free.

Welcome to Carnivora. We hope you enjoy your visit.


You're currently viewing our forum as a guest. This means you are limited to certain areas of the board and there are some features you can't use. If you join our community, you'll be able to access member-only sections, and use many member-only features such as customizing your profile, sending personal messages, and voting in polls. Registration is simple, fast, and completely free.


Join our community!


If you're already a member please log in to your account to access all of our features:


Board Statistics
Total Forum Posts:
277,503
Total Members:
2,468
(The newest member is
memocollector
)
Apr 4 2013, 02:53 AM
, a record
641
users were online.
Polls
Carnivora
Welcome to Carnivora!
Carnivora is the premier Animal discussion and debate forum on the internet. Originators of species profiles, we have the most extensive range of animal profiles with the most detailed information that is constantly updated as it becomes available. We were the first forum to include a dedicated interspecific conflict board to allow discussion of hypothetical animal matchups. So please take time to view our site and the range of topics available, and also take the opportunity to become a member of our community.
Pic Of Week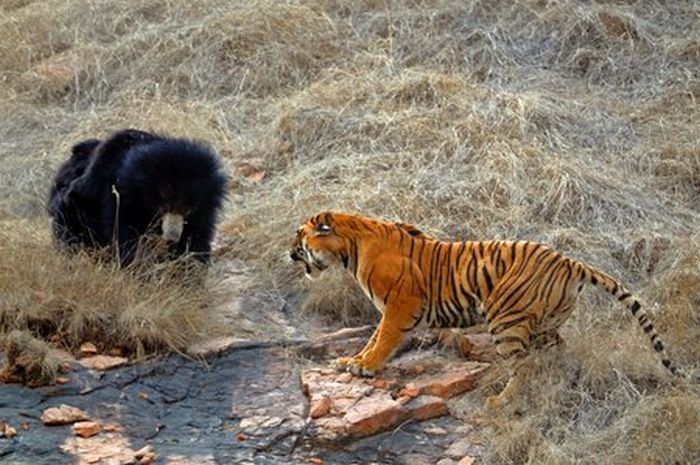 Sloth Bear v Bengal Tiger
Posted by

Taipan

(Admins) at Oct 26 2014, 04:55 PM. 51 comments
Ocelot - Leopardus pardalis
The ocelot (pronounced /ˈɒsəlɒt/; Leopardus pardalis), also known as the dwarf leopard, is a wild cat distributed extensively over South America, Central America, and Mexico. They have been reported as far north as Texas, and as far east as Trinidad and Barbados in the Caribbean. North of Mexico, they are found regularly only in the extreme southern part of Texas, although there are rare sightings in southern Arizona. The ocelot ranges from 68 to 100 centimetres (27 to 39 in) in length, plus 26 to 45 centimeters (10 to 18 in) in tail length, and typically weighs 8 to 18 kilograms (18 to 40 lb), although much larger individuals have occasionally been recorded, making it the largest of the generally dainty Leopardus wild cat genus. It has sleek, smooth fur, rounded ears and relatively large front paws. While similar in appearance to the oncilla and margay, which inhabit the same region, the ocelot is larger.
Harpy Eagle - Harpia harpyja
The Harpy Eagle (Harpia harpyja), sometimes known as the American Harpy Eagle, is a Neotropical species of eagle. It is the largest and most powerful raptor found in the Americas, and among the largest extant species of eagles in the world. It usually inhabits tropical lowland rainforests in the upper (emergent) canopy layer. Female Harpy Eagles typically weigh 6 to 9 kg (13 to 20 lb).[4][5] One exceptionally large captive female, "Jezebel", weighed 12.3 kg (27 lb). Being captive, this large female may not be representative of the weight possible in wild Harpy Eagles due to differences in the food availability. The male, in comparison , is much smaller and weighs only about 4 to 4.8 kg (8.8 to 11 lb).The wings are relatively short and stubby, the female wing length measuring 58.3–62.6 cm, and the male wing length 54.3–58 cm.[4] Harpy Eagles are 89–105 cm (2.92–3.44 ft) long[5] and have a wingspan of 176 to 201 cm (5 ft 9 in to 6 ft 7 in). The Harpy Eagle is an actively hunting carnivore and is an apex predator, meaning that adults are at the top of a food chain and have no natural predators. Its main prey are tree-dwelling mammals such as sloths, monkeys, coatis, porcupines, kinkajous, anteaters and opossums.
---
maker

Oct 26 2014, 10:35 AM

Ocelot vs harpy eagle