Tweet
Welcome to Carnivora. We hope you enjoy your visit.


You're currently viewing our forum as a guest. This means you are limited to certain areas of the board and there are some features you can't use. If you join our community, you'll be able to access member-only sections, and use many member-only features such as customizing your profile, sending personal messages, and voting in polls. Registration is simple, fast, and completely free.


Join our community!


If you're already a member please log in to your account to access all of our features:


Board Statistics
Total Forum Posts:
276,442
Total Members:
2,455
(The newest member is
annageckos
)
Apr 4 2013, 02:53 AM
, a record
641
users were online.
Polls
Carnivora
Welcome to Carnivora!
Carnivora is the premier Animal discussion and debate forum on the internet. Originators of species profiles, we have the most extensive range of animal profiles with the most detailed information that is constantly updated as it becomes available. We were the first forum to include a dedicated interspecific conflict board to allow discussion of hypothetical animal matchups. So please take time to view our site and the range of topics available, and also take the opportunity to become a member of our community.
Pic Of Week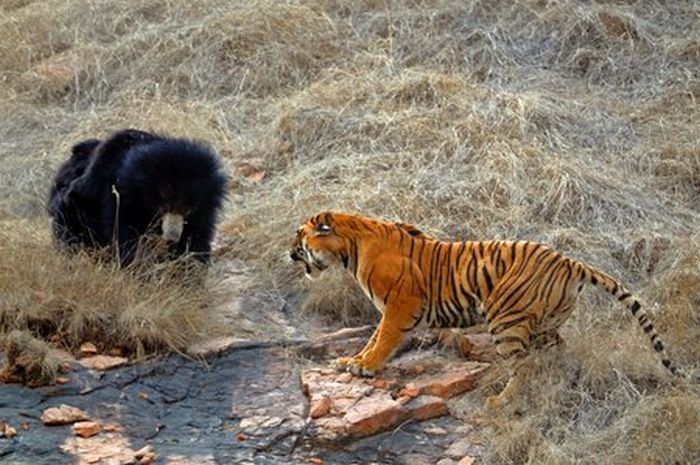 Sloth Bear v Bengal Tiger
Posted by

Taipan

(Admins) at Today, 7:32 PM. 4 comments
Rhesus Macaque - Macaca mulatta
The Rhesus macaque (Macaca mulatta), also called the Rhesus monkey, is one of the best-known species of Old World monkeys. It is listed as Least Concern in the IUCN Red List of Threatened Species in view of its wide distribution, presumed large population, and its tolerance of a broad range of habitats. Native to South, Central and Southeast Asia, troops of Macaca mulatta inhabit a great variety of habitats from grasslands to arid and forested areas, but also close to human settlements. Rhesus macaques are native to northern India, Bangladesh, Pakistan, Nepal, Burma, Thailand, Afghanistan, Vietnam, southern China, and some neighboring areas. The Rhesus monkey has the widest geographic ranges of any nonhuman primate, occupying a great diversity of altitudes throughout Central, South and Southeast Asia. Inhabiting arid, open areas, Rhesus macaques may be found in grasslands, woodlands and in mountainous regions up to 2,500 m (8,200 ft) in elevation. The Rhesus macaque is brown or grey in color and has a pink face, which is bereft of fur. Its tail is of medium length and averages between 20.7 and 22.9 cm (8.1 and 9.0 in). Adult males measure approximately 53 cm (21 in) on average and weigh about 7.7 kg (17 lb). Females are smaller, averaging 47 cm (19 in) in length and 5.3 kg (12 lb) in weight. Rhesus macaques have on average 50 vertebrae. Their intermembral index (ratio of arms to legs) is 89%. They have dorsal scapula and a wide rib cage.
King Cobra - Ophiophagus hannah
The king cobra (Ophiophagus hannah) is the world's longest venomous snake, with a length up to 5.6 m (18.5 ft). This species, which preys chiefly on other snakes, is found predominantly in forests from India through Southeast Asia to Indonesia and the Philippines. The king cobra averages at 3 to 4 m (9.8 to 13 ft) in length and typically weighs about 6 kg (13 lb). The king cobra's generic name, Ophiophagus is a Greek-derived word which means "snake-eater", and its diet consists primarily of other snakes, including ratsnakes, small pythons and even other venomous snakes such as various members of the true cobras (of the genus Naja), and even the much more venomous members of the krait family.
---
7574

Oct 24 2014, 09:27 PM

rhesus maque vs king cobra