Tweet
Welcome to Carnivora. We hope you enjoy your visit.


You're currently viewing our forum as a guest. This means you are limited to certain areas of the board and there are some features you can't use. If you join our community, you'll be able to access member-only sections, and use many member-only features such as customizing your profile, sending personal messages, and voting in polls. Registration is simple, fast, and completely free.


Join our community!


If you're already a member please log in to your account to access all of our features:


Board Statistics
Total Forum Posts:
231,576
Total Members:
2,122
(The newest member is
cougar
)
Apr 4 2013, 02:53 AM
, a record
641
users were online.
Polls
Carnivora
Welcome to Carnivora!
Carnivora is the premier Animal discussion and debate forum on the internet. Originators of species profiles, we have the most extensive range of animal profiles with the most detailed information that is constantly updated as it becomes available. We were the first forum to include a dedicated interspecific conflict board to allow discussion of hypothetical animal matchups. So please take time to view our site and the range of topics available, and also take the opportunity to become a member of our community.
Pic Of Week
Selected by Black Ice
Posted by

Taipan

(Admins) at Today, 9:50 PM. 6 comments
Oriental Small-clawed Otter - Aonyx cinerea
The oriental small-clawed otter (Aonyx cinerea), also known as the Asian small-clawed otter, is the smallest otter species in the world, weighing less than 5 kg. It lives in mangrove swamps and freshwater wetlands of Bangladesh, Burma, India, southern China, Taiwan, Laos, Malaysia, Indonesia, Singapore, the Philippines, Thailand, and Vietnam. Its paws are a distinctive feature, its claws not extending beyond the fleshy end pads of its partially webbed fingers and toes. This gives it a high degree of manual dexterity so that it can use its paws to feed on molluscs, crabs and other small aquatic animals. The overall length can range from 70 to 100 cm (28–39 in), of which about 30 cm (12 in) is the tail. Weight can range from 1 to 5.4 kg (2.2-11.9 lbs). The body is slender, streamlined and serpentine, and is flexible enough to allow grooming of almost all the body. Dark, grayish-brown fur covers most of the dorsal surface with a lighter cream coloration on the ventral surface, especially on the face and neck. The fur has relatively short hairs less than 2.5 cm in length, and it is fine, dense and velvety. Otters have two types of fur: long, stout guard hairs and a short, fine undercoat. Oriental small-clawed otters feed mainly on invertebrates such as crustaceans and molluscs, but are also known to feed on vertebrates, in particular amphibians.
Redeye (Black) Piranha - Serrasalmus rhombeus
Serrasalmus rhombeus (Redeye Piranha), is a fish of the piranha family Serrasalmidae found in South America in the Amazon and Orinoco river basins, the north and eastern Guiana Shield rivers, and northeastern Brazilian coastal rivers. Its length is up to 41.5 cm. These piranhas live in very diverse habitats ranging from soft blackwater, to hard whitewater areas in the Amazon, and as such, are very tolerant of differing water chemistry.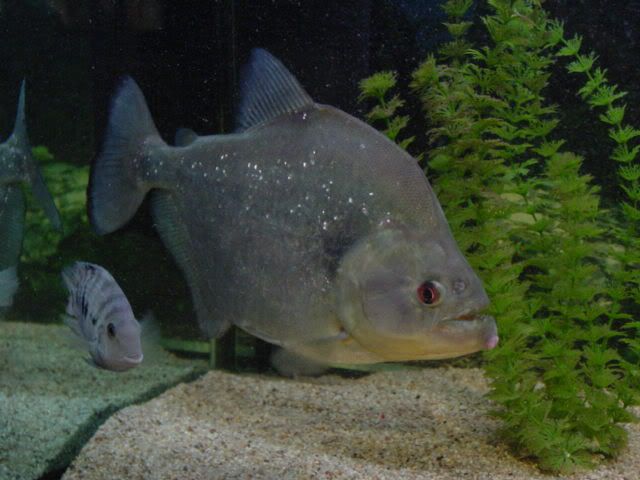 ---
Mauro20

Apr 22 2014, 09:29 PM

Redeye piranha vs oriental small-clawed otter.