Tweet
Welcome to Carnivora. We hope you enjoy your visit.


You're currently viewing our forum as a guest. This means you are limited to certain areas of the board and there are some features you can't use. If you join our community, you'll be able to access member-only sections, and use many member-only features such as customizing your profile, sending personal messages, and voting in polls. Registration is simple, fast, and completely free.


Join our community!


If you're already a member please log in to your account to access all of our features:


Board Statistics
Total Forum Posts:
275,915
Total Members:
2,451
(The newest member is
AucheniaPotens
)
Apr 4 2013, 02:53 AM
, a record
641
users were online.
Polls
Carnivora
Welcome to Carnivora!
Carnivora is the premier Animal discussion and debate forum on the internet. Originators of species profiles, we have the most extensive range of animal profiles with the most detailed information that is constantly updated as it becomes available. We were the first forum to include a dedicated interspecific conflict board to allow discussion of hypothetical animal matchups. So please take time to view our site and the range of topics available, and also take the opportunity to become a member of our community.
Pic Of Week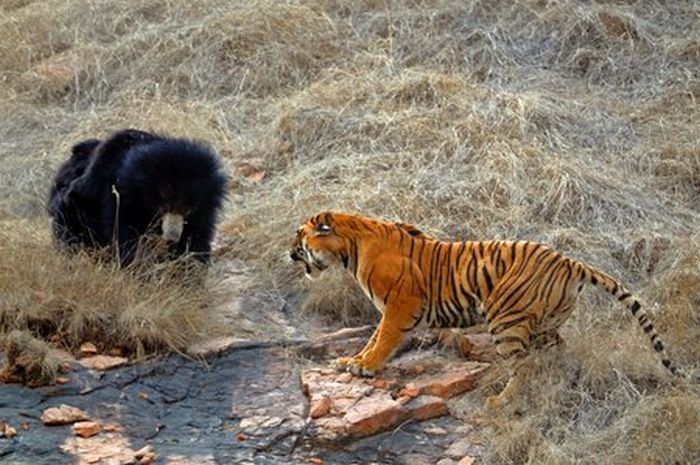 Sloth Bear v Bengal Tiger
Posted by

Taipan

(Admins) at Yesterday, 7:42 PM. 4 comments
Common Eland - Taurotragus oryx
The common eland (Taurotragus oryx) (Swahili: Mbunga) also known as the southern eland or eland antelope, is a savannah and plains antelope found in East and Southern Africa. It is the largest antelope in the African continent. It is native to Botswana, Burundi, Congo, Ethiopia, Kenya, Lesotho, Malawi, Mozambique, Namibia, Rwanda, South Africa, South Sudan, Swaziland, Tanzania, Uganda, Zambia and Zimbabwe; and is possibly extinct in Angola. The elands are spiral-horned antelopes belonging to the Bovid tribe of Tragelaphini. Females weigh 300–600 kg (660–1,300 lb), measure 200–280 cm (79–110 in) from the snout to the base of the tail and stand 125–153 cm (49–60 in) at the shoulder. Bulls weigh 450–1,000 kg (990–2,200 lb), are 240–345 cm (94–136 in) from the snout to the base of the tail and stand 150–183 cm (59–72 in) at the shoulder. The tail adds a further 50–90 cm (20–35 in).
African Wild Dog (pack of 6) - Lycaon pictus
Lycaon pictus is a large canid found only in Africa, especially in savannas and lightly wooded areas. It is variously called the African wild dog, African hunting dog, Cape hunting dog, painted dog, painted wolf, painted hunting dog, spotted dog, or ornate wolf. he scientific name "Lycaon pictus" is derived from the Greek for "wolf" and the Latin for "painted". It is the only canid species to lack dewclaws on the forelimbs. This is the largest African canid and, behind only the gray wolf, is the world's second largest extant wild canid. Adults typically weigh 18–36 kilograms (40–79 lb). A tall, lean animal, it stands about 75 cm (30 in) at the shoulder, with a head and body length of 75–141 cm (30–56 in) plus a tail of 30 to 45 cm (12 to 18 in). Animals in southern Africa are generally larger than those in eastern or western Africa. There is little sexual dimorphism, though judging by skeletal dimensions, males are usually 3-7% larger. The African wild dog's main prey varies among populations but always centers around medium-to-large sized ungulates, such as the impala, Thomson's Gazelle, Springbok, kudu, reedbuck, and wildebeest calves. The most frequent single prey species depends upon season and local availability. For example, in the Serengeti in the 1970s wildebeest (mostly calves) were the most frequently taken species (57%) from January to June, but Thompsons gazelle were the most frequently taken (79%) during the rest of the year.
---
7574

Oct 21 2014, 11:42 AM

common eland vs 6 african wild dog