Tweet
Welcome to Carnivora. We hope you enjoy your visit.


You're currently viewing our forum as a guest. This means you are limited to certain areas of the board and there are some features you can't use. If you join our community, you'll be able to access member-only sections, and use many member-only features such as customizing your profile, sending personal messages, and voting in polls. Registration is simple, fast, and completely free.


Join our community!


If you're already a member please log in to your account to access all of our features:


Board Statistics
Total Forum Posts:
294,381
Total Members:
2,628
(The newest member is
nicky
)
Apr 4 2013, 02:53 AM
, a record
641
users were online.
Polls
Carnivora
Welcome to Carnivora!
Carnivora is the premier Animal discussion and debate forum on the internet. Originators of species profiles, we have the most extensive range of animal profiles with the most detailed information that is constantly updated as it becomes available. We were the first forum to include a dedicated interspecific conflict board to allow discussion of hypothetical animal matchups. So please take time to view our site and the range of topics available, and also take the opportunity to become a member of our community.
Pic Of Week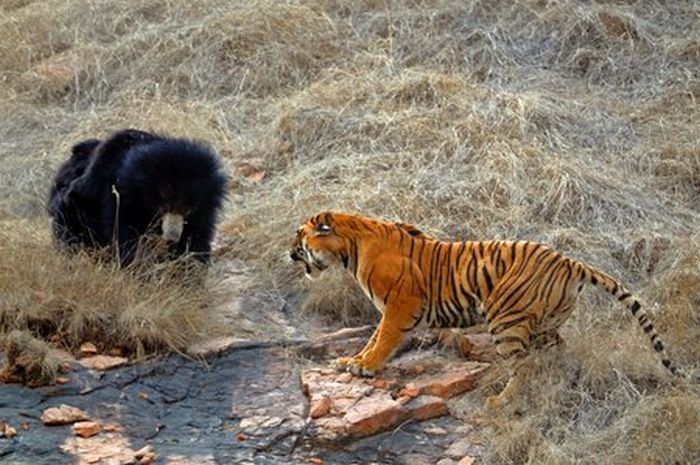 Sloth Bear v Bengal Tiger
Posted by

Taipan

(Admins) at Jan 27 2015, 08:00 PM. 7 comments
Sun Bear sow - Ursus malayanus
The sun bear (Ursus malayanus), sometimes known as the honey bear, is a bear found primarily in the tropical rainforests of Southeast Asia; North-East India, Bangladesh, Myanmar, Thailand, Laos, Cambodia, Vietnam, Southern China, Peninsular Malaysia, and the islands of Sumatra and Borneo. The sun bear is 120–150 cm (47–60 in) long, making it the smallest member in the bear family (Ursidae). Females normally weigh between 20 and 40 kg (44–88 lb). The shoulder height is about 60–72 cm (24–28 in). The sun bear possesses sickle-shaped claws that are relatively light in weight. It has large paws with naked soles, probably to assist in climbing. Its inward-turned feet make the bear's walk pigeon toed, but it is an excellent climber. The diet of the sun bear consists mainly of invertebrates and fruits but as omnivores they will eat a wide variety of foods including small vertebrates, such as lizards, birds, and turtles, eggs, the young tips of palm trees, nests of bees, berries, sprouts, roots, and coconuts. In fact, sun bears have been observed to eat over 100 insect species and over 50 plant species.
Haast's Eagle - Harpagornis moorei
Haast's Eagle (Harpagornis moorei) was a species of massive eagles that once lived on the South Island of New Zealand. The species was the largest eagle known to have existed. Its prey consisted mainly of gigantic flightless birds that were unable to defend themselves from the striking force and speed of these eagles, which at times reached 80 km/h (50 mph). The Eagle's massive size may have been an evolutionary response to the size of its prey, as both would have been much smaller when they first came to the island, and would have grown larger over time due to lack of competition (see Island gigantism). The Haast's Eagle became extinct about 1400, when its major food sources, the moa, were hunted to extinction by humans living on the island and much of its dense-forest habitat was cleared. Haast's Eagles were the largest known true raptors, slightly larger even than the largest living vultures. Female eagles are significantly larger than males. Females of the Haast species are believed to have weighed 10–15 kg (22–33 lb) and males 9–12 kg (20–26 lb). They had a relatively short wingspan, measuring roughly 2.6–3 m (8 ft 6 in–9 ft 10 in). This wingspan is similar to that of some extant eagles (the wingspan now reported in large specimens of Golden Eagles and Steller's Sea Eagles). Even the largest extant eagles, however, are about forty percent smaller in body size than the size of Haast's Eagles.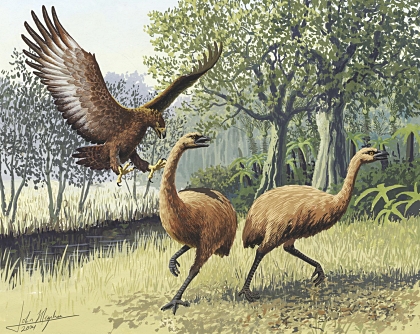 ---
The Observer

Jan 27 2015, 06:11 PM

Haast's eagle vs sun bear sow