Tweet
Welcome to Carnivora. We hope you enjoy your visit.


You're currently viewing our forum as a guest. This means you are limited to certain areas of the board and there are some features you can't use. If you join our community, you'll be able to access member-only sections, and use many member-only features such as customizing your profile, sending personal messages, and voting in polls. Registration is simple, fast, and completely free.


Join our community!


If you're already a member please log in to your account to access all of our features:


Board Statistics
Total Forum Posts:
287,670
Total Members:
2,560
(The newest member is
qx54703
)
Apr 4 2013, 02:53 AM
, a record
641
users were online.
Polls
Carnivora
Welcome to Carnivora!
Carnivora is the premier Animal discussion and debate forum on the internet. Originators of species profiles, we have the most extensive range of animal profiles with the most detailed information that is constantly updated as it becomes available. We were the first forum to include a dedicated interspecific conflict board to allow discussion of hypothetical animal matchups. So please take time to view our site and the range of topics available, and also take the opportunity to become a member of our community.
Pic Of Week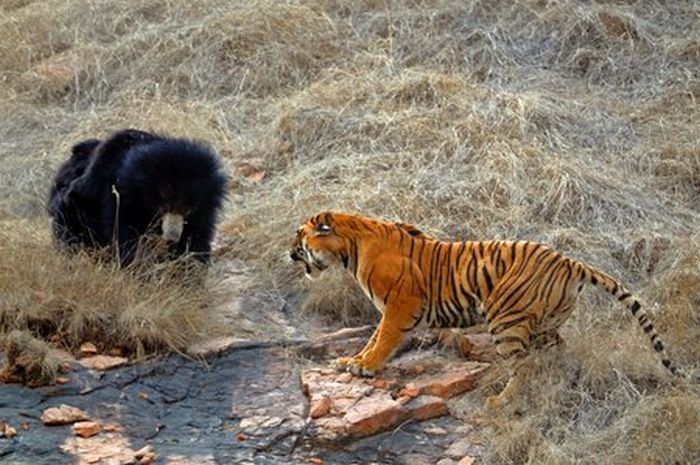 Sloth Bear v Bengal Tiger
Posted by

Taipan

(Admins) at Today, 10:07 PM. 4 comments
Greater Flying Fox (Kalang) - Pteropus vampyrus
The large flying fox (Pteropus vampyrus), also known as the greater flying fox, Malaysian flying fox, large fruit bat, kalang or kalong, is a southeast Asian species of megabat in the family Pteropodidae. Like the other members of the genus Pteropus, or the Old World fruit bats, it feeds exclusively on fruits, nectar and flowers. It is noted for being one of the largest bats. It, as with all other Old World fruit bats, lacks the ability to echolocate. The large flying fox is among the largest species of bat. It weighs 0.65–1.1 kg (1.4–2.4 lb) and has a wingspan of up to 1.5 m (4 ft 11 in). As with all megabats, it has a fox-like face, hence its name. It lacks a tail and has pointed ears. This species primarily feeds on flower, nectar and fruit. When all three food item are available, flowers and nectar are preferred.
Hyacinth Macaw - Anodorhynchus hyacinthinus
The hyacinth macaw (Anodorhynchus hyacinthinus), or hyacinthine macaw, is a parrot native to central and eastern South America. With a length (from the top of its head to the tip of its long pointed tail) of about 100 cm (3.3 ft) it is longer than any other species of parrot. The largest parrot by length in the world, the hyacinth macaw is 100 cm (3.3 ft) long from the tip of its tail to the top of its head and weighs 1.2–1.7 kg (2.6–3.7 lb). Each wing is 388–425 mm (15.3–16.7 in) long. The tail is long and pointed. Its feathers are entirely blue, lighter above. However, sometimes, the neck feathers can be slightly grey. The majority of the hyacinth macaw diet is nuts from native palms, such as acuri and bocaiuva palms.
---
Catboy

Dec 22 2014, 04:47 AM

Hyacinth Macaw v Greater Flying Fox